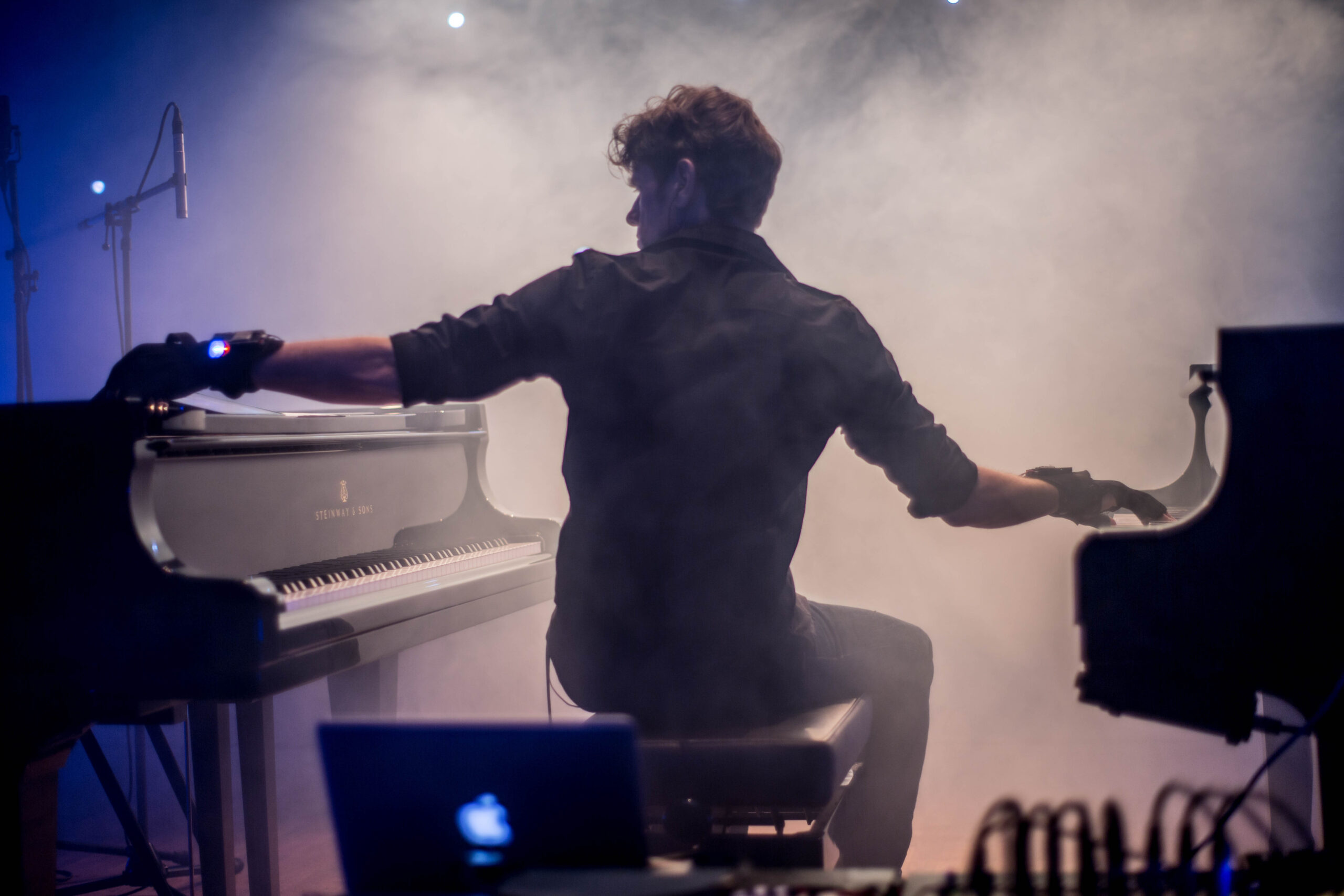 BIO
Artist, pianist, arranger and composer Ralf Schmid is one of the most innovative artists in Europe. His futuristic piano project PYANOOK is unique in the world: 
– Ralf Schmid performs live on two acoustic pianos with motion-controlled electronics.
– Revolutionary data gloves detect hand and finger movements and enable Pyanook to control sound processing in the flow of piano playing.
– Futuristic piano recital 4D. Video-projections on aerial sculptures: Pyanook's compositions/improvisations interact with the visual art of Pietro Cardarelli.
Ralf Schmid studied classical piano, jazz composition and film music in Stuttgart, New York and Los Angeles. His unique style reflects a strong musical vision beyond stylistic boundaries. He has worked with such diverse artists as Michael Brecker, Whitney Houston, Daniel Hope, Herbie Hancock, Natalie Cole, Ivan Lins, Pee Wee Ellis, the New York Voices, the Danish Radio Big Band, the Budapest Philharmonic, the Henry Mancini Institute Orchestra Los Angeles and many more in major cities all over Europe, the US, Asia, South Africa, Cuba and Brazil.
He has released six albums with trumpeter Joo Kraus, including the ECHO-winning Painting Pop and the Michael Jackson tribute Songs from Neverland (Number 1 in the German jazz charts). Schmid has conducted the Radio Big Bands of Copenhagen, Hamburg, Berlin, Stuttgart and Frankfurt and produced award-winning albums.
Besides his Big Band scoring, he has written commissioned works for choirs, symphony and chamber orchestras. His music theater A Distant Drum premiered in October 2014 at Carnegie Hall, New York and Bloemfontein, South Africa with violinist Daniel Hope, drummer Jason Marsalis and others. Schmid´s futuristic piano-electro-project Pyanook is unique worldwide and NOT to be missed! Ralf Schmid is professor at the renowned music university of Freiburg, Germany since 2002 where he created his amazing revolutionary project Pyanook which is unique in the world of piano and touches undiscovered pianistic terrain.