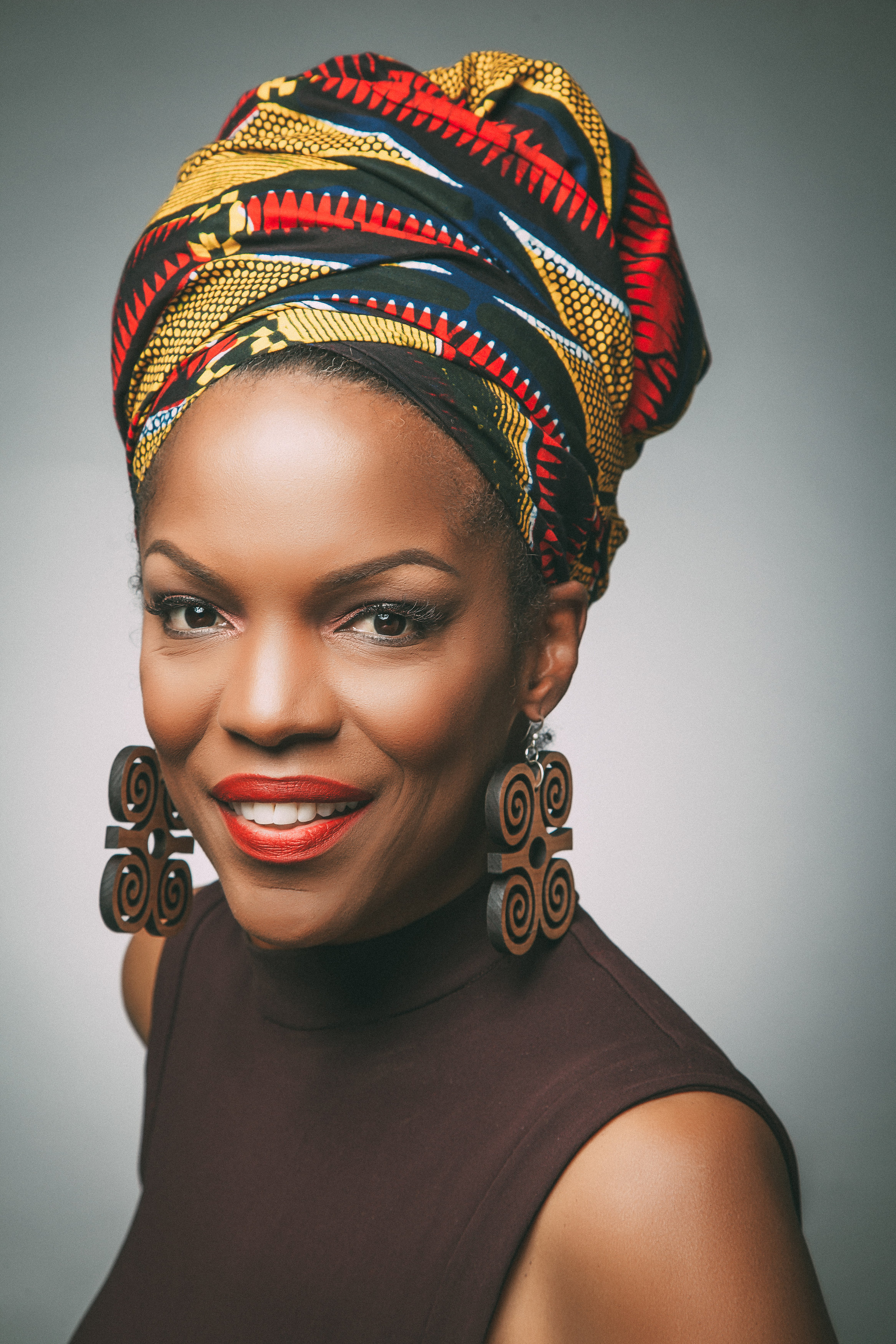 BIO
Six-time GRAMMY® Award nominee Nnenna Freelon is internationally hailed as one of the greatest vocalists to come along in decades. Her style is described with "class" and "sophistication". She has earned a well-deserved worldwide reputation as a compelling and captivating live performer. 
"Freelon makes each song…such a personal statement that they all seem fresh and new" – USA TODAY
As an accomplished singer, composer, producer, and arranger (as well as budding actress), Freelon has also dedicated herself to educating young people.
Freelon toured the United States for four years as the National Spokesperson for Partners In Education. Her master classes and workshops, from Sound Sculpture to the groundbreaking Babysong, teach adults and children that they too can change the world. 
Nnenna Freelon has performed and toured with such top artists as Ray Charles, Ellis Marsalis, Al Jarreau, Anita Baker, Aretha Franklin, Dianne Reeves, Diana Krall, Ramsey Lewis, George Benson, Clark Terry, Herbie Hancock, and Terence Blanchard. She has performed at Carnegie Hall, Hollywood Bowl, Ellington Jazz Festival, Monterey Jazz Festival, Apollo Theater, Montreux Jazz Festival, the John F Kennedy Center for the Performing Arts, and many more.
In November 2011, The White House asked Freelon to headline the Asia Pacific Economic Summit, performing for 300 Presidents, Premiers and Heads of State from around the world. In live performance, recent opportunities have brought her first collaborations with two legends Freelon has long-admired: guitarist Earl Klugh and pianist Ramsey Lewis.
Prior to these events, Freelon teamed with opera star Jessye Norman and the band The Roots at The Hollywood Bowl, and thrilled SRO-shows at the Tanglewood Jazz Festival with the Duke Ellington-inspired Dreaming The Duke. At the 43rd annual GRAMMY Awards telecast from Los Angeles, she inspired an enthusiastic standing ovation from 20,000 music-industry insiders and celebrities when she took to the stage with Take 6. Prior to that stirring appearance, Freelon's performances for the legendary Julie Andrews at the Society of Singers' 'Ella Awards', Variety's The Children's Charity, Jerry Lewis's Labor Day Muscular Dystrophy Telethon, a headline spot for ActionAID, the International AIDS fundraiser with Sir Elton John and Andrea Bocelli, as well as at the most famous jazz festivals around the globe, have all been rousing successes.
A tireless advocate for the arts, and known for her dedication to education and children of all ages, Freelon has been recognized often: YWCA of North Carolina's 2011 inaugural Legend Award for her outstanding artistry and dedication to education; 2010 'Woman of Substance" by Bennett College for Women; the National Inventor's Hall of Fame for her artistry; the Eubie Blake Award; Academie of Jazz of France Award; and many more.
Born and raised in Cambridge, Massachusetts, Freelon received her undergraduate degree from Simmons College in Boston. Her parents and singing in the church gave the singer her first exposure to the arts – especially to the art of jazz. Her father played Count Basie recordings and her mother's active involvement in their church led Freelon to an appreciation of all music. Ultimately she pursued a career in jazz in which she has excelled. All the while, Freelon has cherished and held dear her two most important lifetime roles as wife and mother. Her husband Phil Freelon is an award-winning architect based in North Carolina. As a mother of three, Freelon has led by example: follow your dreams, dedicate yourself, and work hard in all you do.
Her recording career has brought consistent respect and sales for the artist both for her solo albums and those on which she collaborates or is featured in duets. Nnenna Freelon has created a diverse and outstanding legacy from her creativity to her performances that have garnered an ever-growing fan base from audiences to leaders worldwide.
In 2014, Nnenna starred in the critically acclaimed show Georgia on My Mind: Celebrating the Music of Ray Charles at the Venetian Hotel in Las Vegas. Nnenna is no stranger to the music of the master singer. She toured with Ray Charles, as well as many other jazz greats including Ellis Marsalis, Al Jarreau and George Benson.