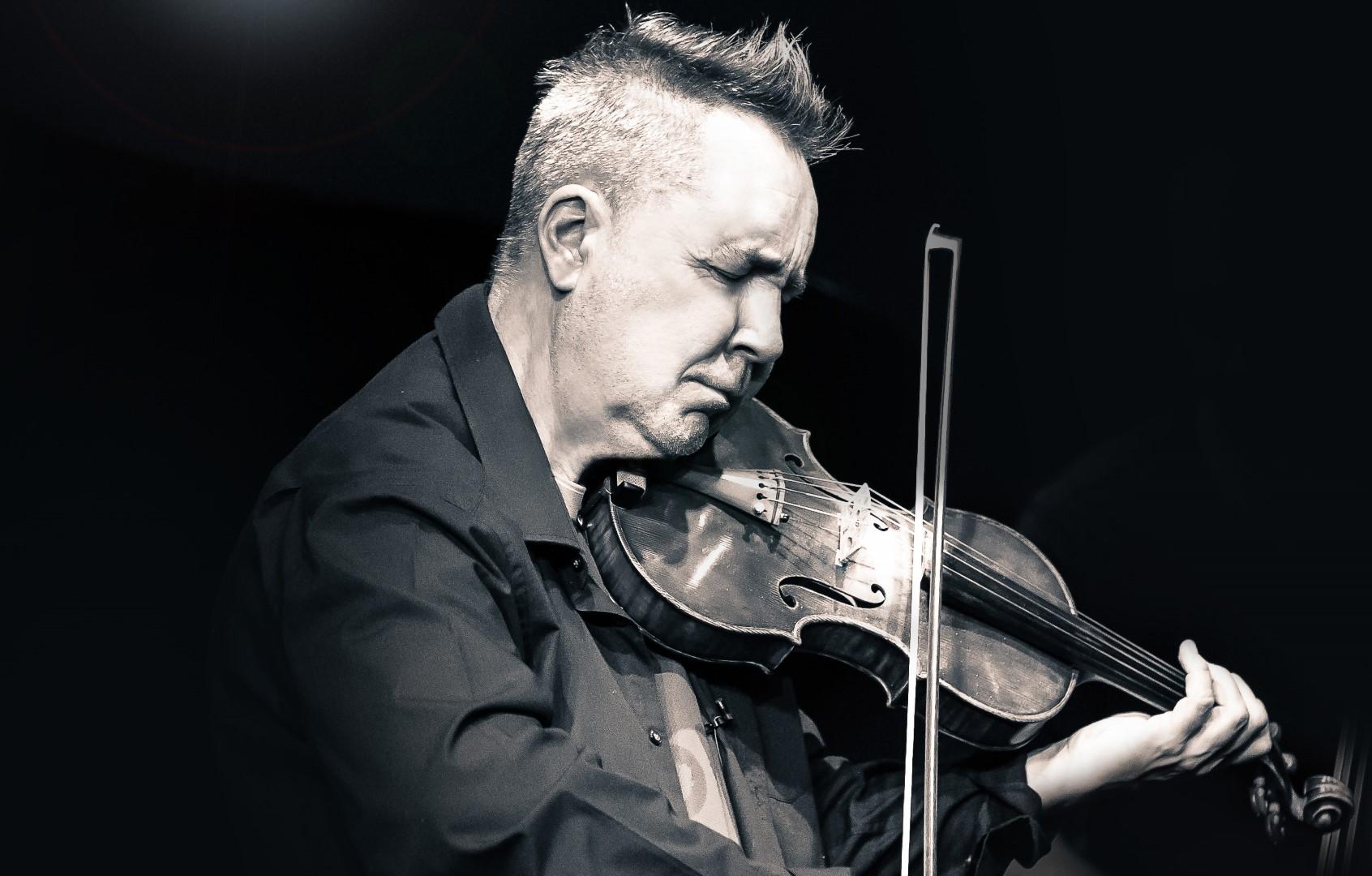 BIO
Nigel Kennedy, is one of the biggest selling violinists of all time and without doubt, one of the most important leading violin virtuosos.
His recording of Vivaldi's The Four Seasons is one of the best selling classical recordings ever. His virtuoso technique, unique talent and mass appeal have brought fresh perspectives to both the classical and contemporary repertoire..
He was born into a musical family, nurtured by a musical community and propelled to international superstardom. Kennedy remains the bestselling violinist of all time. He singled-handedly paved the way for a new generation of artists, who have enjoyed success both in the classical field and in the mainstream. His virtuoso technique, unique talent and mass appeal have brought fresh perspectives to both the classical and contemporary repertoire.
Pushing at the boundaries that might constrain others, he has continued to pioneer new sounds and new methods of performance. Single-minded, determined and utterly unique, Kennedy explores repertoire which spans classical, jazz, klezmer, rock and much, much more. His mother bought him a violin as a youngster, after having previously encouraged her son to learn the piano. Kennedy's violin teacher had the foresight to make learning fun, asking for no more than five minutes practice and then rewarding the youngster with sweets.
Kennedy shone and at the age of seven was spotted by the great Yehudi Menuhin, who offered him a scholarship at the Yehudi Menuhin School and agreed to pay all of his fees. Kennedy excelled and went on to study at the Juilliard School, in New York City, with Dorothy DeLay. His unconventional approach to performing, however, had already taken root. He railed against the needless conformity that was sought in other youngsters and on occasion would take off his jacket and tie while on stage, much to the delight of the audience.
"That gave me a direct connection with the people in the theatres," he said. "They realised I was the same as them. It made the performances more exciting."
Labelling Kennedy a mere maverick, however, is missing the point. He is one of the great virtuosos, a compelling talent whose strong work ethic and perfectionist tendencies constantly propel him to ever-greater heights. Starting each day with three hours practice, Kennedy continues to improve as his career moves on. It is not just in the world of classical music that Kennedy has made his mark. Famously, he reimagined the work of Jimi Hendrix having been asked by the great rock guitarist's estate to record a tribute to the iconic bluesman. The ground-breaking recording The Kennedy Experience followed and featured improvisational recordings based on Hendrix compositions.
Kennedy's participation in the world of rock has encompassed collaborations with numerous others. Sir Paul McCartney, Kate Bush, The Who, Led Zeppelin singer Robert Plant, Donovan, John Lord, Talk Talk, Jeff Beck, Ian Dury (Kennedy is an honorary Blockhead]
and others are among those who he has worked with.
"I've learned so much from working with those cats," he added. "Macca is a brilliant multi-talented musician and writer of great melodies, Planty is a genuine rock legend, Kate has always pushed herself and given 200% and Daltry and Townsend have changed the course of music."
Kennedy is a man of the people who has popularised the sometimes stuffy world of classical music by exhibiting a human touch. His love of Aston Villa Football Club, for instance, has helped to break down some of the barriers.
When his club won the European Cup in Rotterdam in 1982, Kennedy was playing a concert in Germany. He halted the concert and erected a giant screen so that he and the audience could watch the match before continuing his concert. "It was the right result that night," he said. "And the crowd enjoyed both the music and the football."
His humanity has also been evident in his work as a campaigner. He has fought hard to help the underprivileged and impoverished, speaking out against the oppression of minorities and those whose voices might otherwise go unheard. Playing, however, is just part of Kennedy's activities. He is an experienced music director, who not only founded his own orchestra, the Orchestra of Life, the versatile, pan-European collective of dynamic Polish and British musicians, but also led the Polish Chamber Orchestra for years. Both ensembles recorded and toured extensively under his leadership. Kennedy also regularly curates festivals and has put together and played with a number of bands in a variety of formations as a sophisticated band leader.
A truly international performer, Kennedy divides his time between England and Poland, where he lives with his wife, Agnieszka. They collaborated on part of his new release, My World, which features music written to accompany a new version of Chekov's Three Sisters. The play was translated from the original text by Kennedy's wife and set to music by the great violinist. My World also features tributes to five of the musicians and mentors who have shaped Kennedy's life. Icons like Yehudi Menuhin and Stephane Grappelli were inspirational in turning Kennedy into a global superstar. They were not alone. Kennedy's development in music was also helped by the great Isaac Stern. He pays tribute to their profound influence in self-penned compositions that showcase both his remarkable playing skills and his immense talent as a composer. Nigel says, "I wanted to find a musical way of saying thank you."
Kennedy will be busy in coming years. Numerous concerts and projects are planned as he continues to develop a sound that has brought pleasure to many millions. As a writer, performer, band leader and player he is intent on continuing to improve as he pushes the boundaries and breaks new ground.
"I sometimes liken music to competitive sport. You see the great sportsmen and they are continually trying to improve. Even when they get to number one, they are never satisfied, they want to do more. Well, so do I. There's a lot more to come from me. I'm very excited about the future."
Kennedy has won BRIT Awards, ECHO and Bambi awards in Germany, multiple Grammy nominations and other awards across the world. He performed and recorded music from the baroque era to the modern day Many of his albums went to Platinum and Gold, his most recent album My World just hit the top of the classical charts in the UK.
A true original, Kennedy's career remains in the ascent. And that will be music to his many fans' ears.