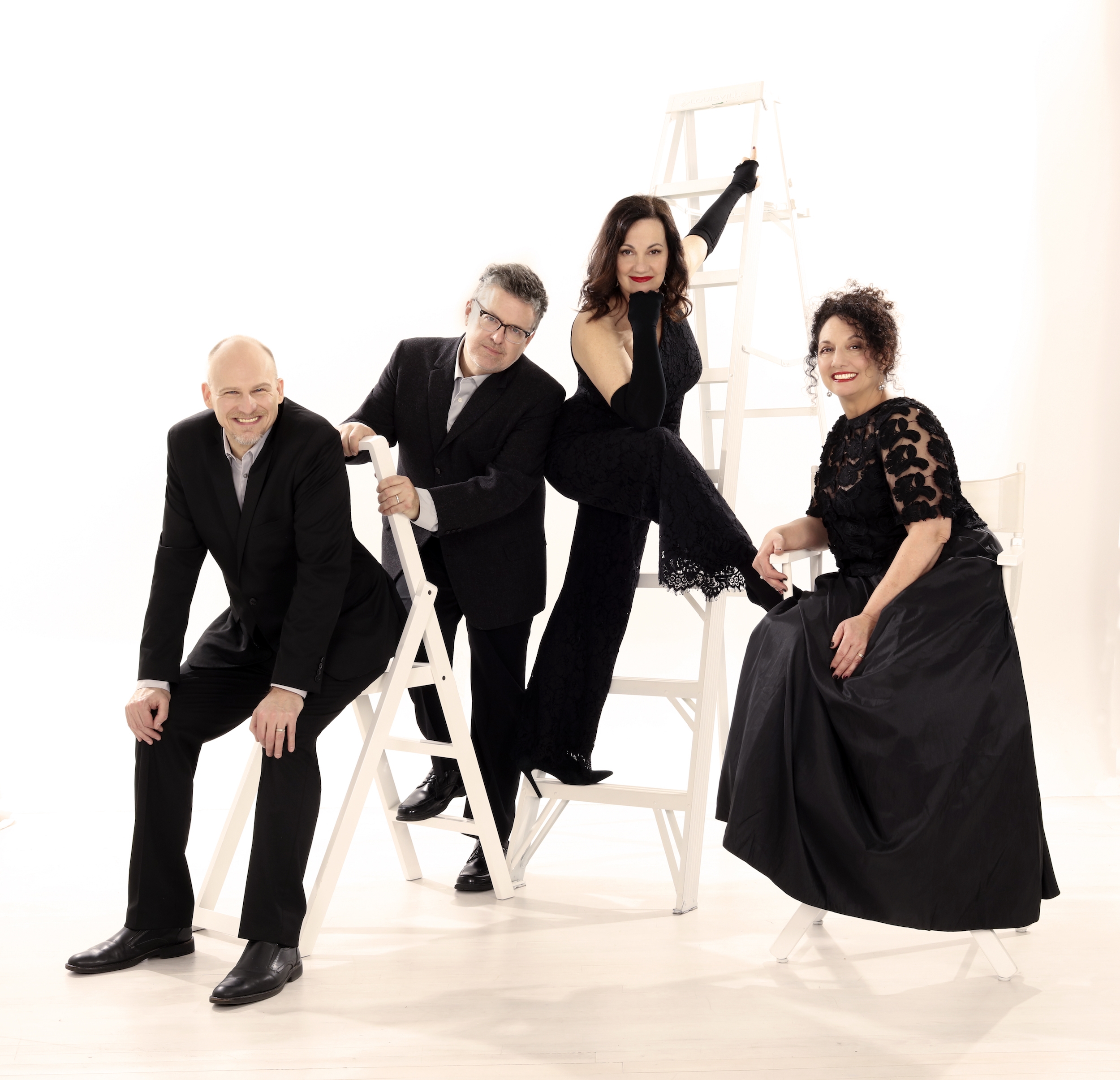 BIO
New York Voices (NYV) is the GRAMMY® Award winning vocal ensemble renowned for their excellence in jazz and the art of group singing. New York Voices is considered as one of the premiere vocal (and only) jazz groups in the world today. They use a repertoire that includes bop songs from the vocalese tradition, plus adaptations of more timely material from the jazz and pop worlds.
Like the great groups that have come before, such as Lambert, Hendricks and Ross, Singers Unlimited, Manhattan Transfer and Take 6, they have learned from the best and taken the art form to new levels. Their interests are rooted in jazz, but often Brazilian, R&B, classical, and pop influences are included with equal creativity and authenticity.
"New York Voices lives up to its reputation as the most exciting vocal ensemble in current jazz… to collect such quality voices in one group is rare enough, yet the real trick of New York Voices is how well they mesh…" Boston Herald
New York Voices comprises Lauren Kinhan (alto), Kim Nazarian (soprano), Peter Eldridge (bass) and Darmon Meader (tenor, tenor sax).
The vocal foursome sings and swings with impeccable harmony and understanding of each other. NYV has refined their musical story to a high art. They are known for their close-knit voicings, inspired arrangements and unparalleled vocal blend. Their incredible musicianship allows them to move seamlessly from setting to setting, be it orchestral/Big Band to the intimate trio lineup. Their chameleon-like musicianship allows them to move seamlessly from setting to setting, be it orchestral, big band or the intimate trio lineup. NYV are 'first call' from great arrangers and conductors like Bob Mintzer, Don Sebesky, Michael Abene, Keith Lockhart, and Rob Fisher who all know and admire the complexity of what they do and are looking for something out of the ordinary when developing new projects. Like the great jazz vocal groups that have come before: Lambert, Hendricks and Ross; Singers Unlimited; and The Manhattan Transfer, they are firmly a part of that legacy and are dedicated to passing it on to the generations to come.
Darmon Meader founded the group in 1987 which had its first performances as a vocal quintet with Darmon Meader, Peter Eldridge, Kim Nazarian, Caprice Fox, and Sara Krieger. Meader, Eldridge, Nazarian, and Fox attended Ithaca College in NY and were part of an invitational alumni group formed to tour the European Jazz Festival circuit in the summer of '86. In 1989 they would sign their first record deal with GRP Records and release their self-titled debut album, New York Voices. The group received rave reviews and quickly received domestic and international recognition in the jazz world. They released four CDs on the GRP label. While recording for GRP, the group underwent changes. In 1992, Sara Krieger stepped down and after auditioning over 60 vocalists from all over the United States, the group found Lauren Kinhan. There was an immediate chemistry, allowing the group to make a quick transition and become the 'new' New York Voices. In early 1994, Fox left the group, forever fixing NYV as the quartet it is today. Since that time NYV have enjoyed a prestigious international touring career, amazing audiences the world over with their impeccable voices and elegant musicianship.
In 2018 NYV celebrated their 30th anniversary with a new album. Life bursts forth from every corner of Reminiscing in Tempo, the quartet's anniversary release and one of the most ambitious, accomplished undertakings in their entire catalog. Working with revered producer and longtime friend Elliot Scheiner, NYV takes a deep dive into the jazz canon, surfacing with standards by Cole Porter and Al Jolson and gems from Chick Corea, Fred Hersch, and Duke Ellington, along with an Al Jarreau-penned lyrical treatment of Dave Brubeck. As always, however, the band looks beyond the jazz repertoire as well, rendering two inventive originals, classics by the Beatles and Ivan Lins, and even a pair of settings for the Cuban classical composer Ignacio Cervantes. Adventurous though they may still be, Reminiscing in Tempo also finds the band having settled into a mature, confident phase. They are aware of their achievements, but don't feel the need to harp on about them.
Along with their concert performances and recording schedules, NYV also works in the field of education, giving workshops and clinics to high school and college music students throughout the world. It is the bedrock of their organization and has fostered an industry for their artistry to thrive and pass on to the generations to come. In 2008, they launched the New York Voices Vocal Jazz Camp, now going into its 11th year. In 2016, they introduced the New York Voices International Vocal Jazz Camp. Individually, the four members are involved in a variety of projects including solo performances and recordings, teaching, writing and arranging. To learn more about NYV or the individual members, please visit newyorkvoices.com.