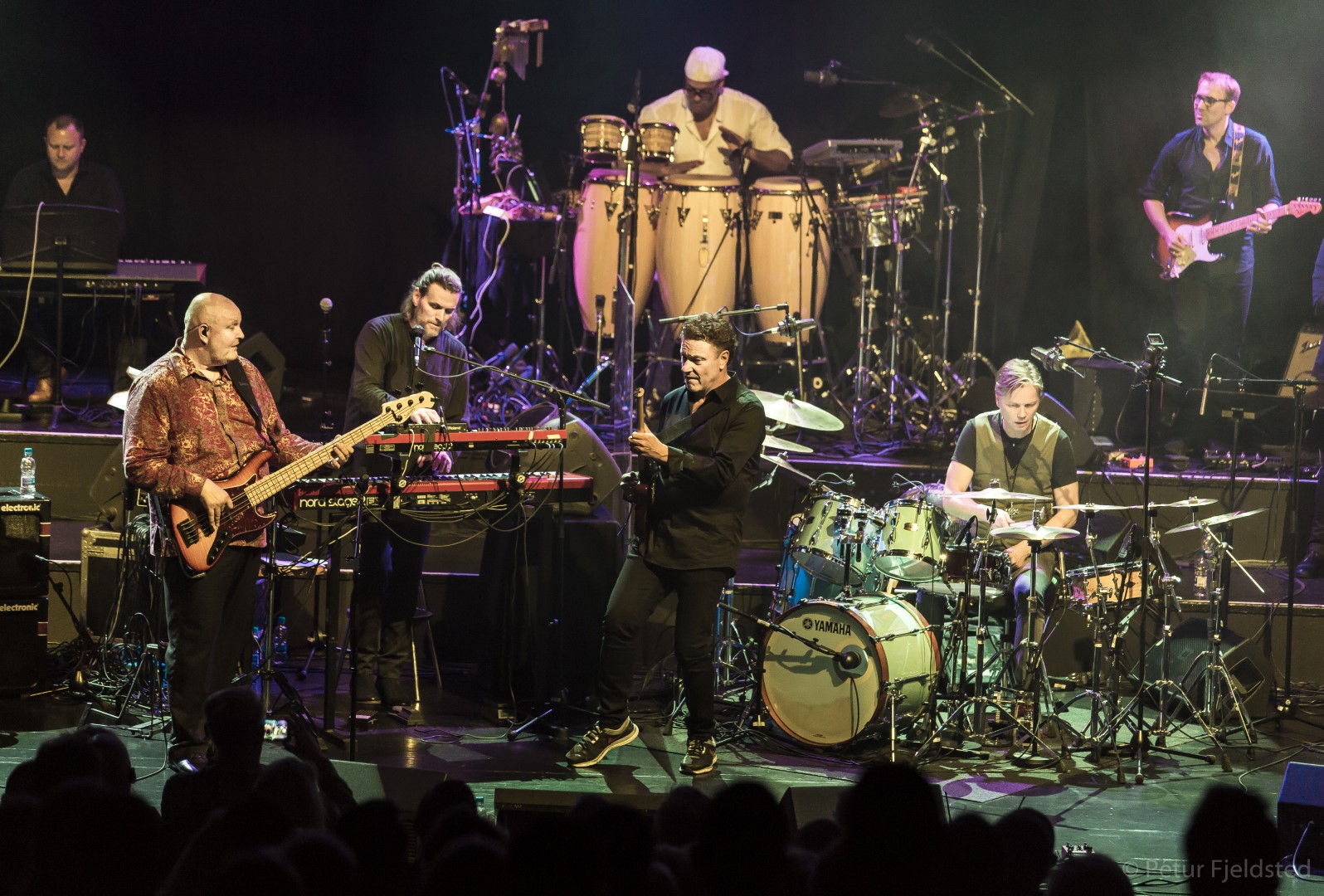 BIO
Icelandic Grandmasters of Funk Jazz are Iceland's if not Europe's most well-known and respected jazz-funk fusion band. The band which blazed the trail for Björk and the Sugarcubes is best known for their mega hit single Garden Party which came out in 1983 and made it into the UK and European charts. Fun fact: their exuberant hit Garden Party was covered in the USA by Herb Alpert who performed it at half-speed, reportedly because he had learned the piece from a 45 rpm single accidentally played at 33.
Watching their live show is such a joy, and people who come to listen to them always have the best of all time. A good time that is delivered perfectly by the band, who are probably having more fun than anyone else in the room. Their chemistry together is so pure and you know that if they didn't have it down so well, they wouldn't nearly be as good.
The core of Mezzoforte is the four founders, all versatile masters of their instruments which they play effortlessly. They have been performing together since the beginning in the 70's: Eyþór Gunnarsson – Keyboards, Jóhann Ásmundsson – Bass, Gulli Briem– Drums, Friðrik Karlsson (Frissi) – Guitar. After all this time, Mezzoforte remains a playground for individuals who have an almost extrasensory perception of each other. That's what over forty years can do if you stick with what you believe in. There is no re-union needed, this is simply a musical union built to last.
Eythor, Fridrik, Johann and Gulli were only fifteen and sixteen years old when they formed the band in Reykjavik 1977. The four teenage boys all loved playing their instruments and shared an interest in music, from heavy-rock to jazz-rock fusion and funk. Their enthusiasm and energy soon caught the attention of Icelandic recording executive Steinar Berg, who thought this could lead to something worthwhile and signed the band to his Icelandic label, Steinar hf, in 1979. After three albums of experimenting and developing their skills, the band travelled to London in 1982 to record what turned out to be the pivotal fourth album, Surprise, Surprise. They teamed up with producer/engineer Geoff Calver, horn and vocal arranger Chris Cameron and percussionist Luis Jardim, who helped the young Icelanders shape their style and create what became the unmistakable sound of Mezzoforte. Catchy melodies, strong grooves and exciting solos were the key elements.
After the release of the first single, Garden Party, on Steinar Records UK in the spring of 1983 the ball really started rolling in the London clubs and discotheques. The song ended up being A-listed on the biggest radio stations in Great Britain; BBC Radio One and Capital Radio, leading to an appearance on BBC's Top of the Pops. Garden Party reached number 17 in the British pop charts, which is quite remarkable for an instrumental song. The rest of the world soon responded and a worldwide release of both single and album followed.
The next years were spent touring, first in the UK (47 concerts in the summer of '83), then Germany, Benelux, Scandinavia, Japan and many more countries. The young members of the band were thrilled to be sharing the bill (sometimes even topping it) at various international festivals with some of the biggest stars in jazz & fusion like Steps Ahead, Passport, Weather Report, Al Jarreau and Spyro Gyra to name a few. In the following years Mezzoforte kept touring and releasing noteworthy albums: Observations; Rising; No Limits; Playing for time and Daybreak all received critical acclaim (though none of them quite matched the commercial success of the surprise hit instrumental, Garden Party). In the new millennium Mezzoforte have remained active, releasing three albums and a live DVD as well as touring extensively. The energy and sheer enjoyment which this unique band still projects on stage has to be seen to be believed.
The list of musicians who have worked with Mezzoforte over the years is quite the Who's Who of exciting music. The list of artists that have enjoyed the services of Mezzoforte members over the years is equally impressive.
The band was named after the traditional musical term mezzo forte, an instruction to play literally 'moderately loud'.