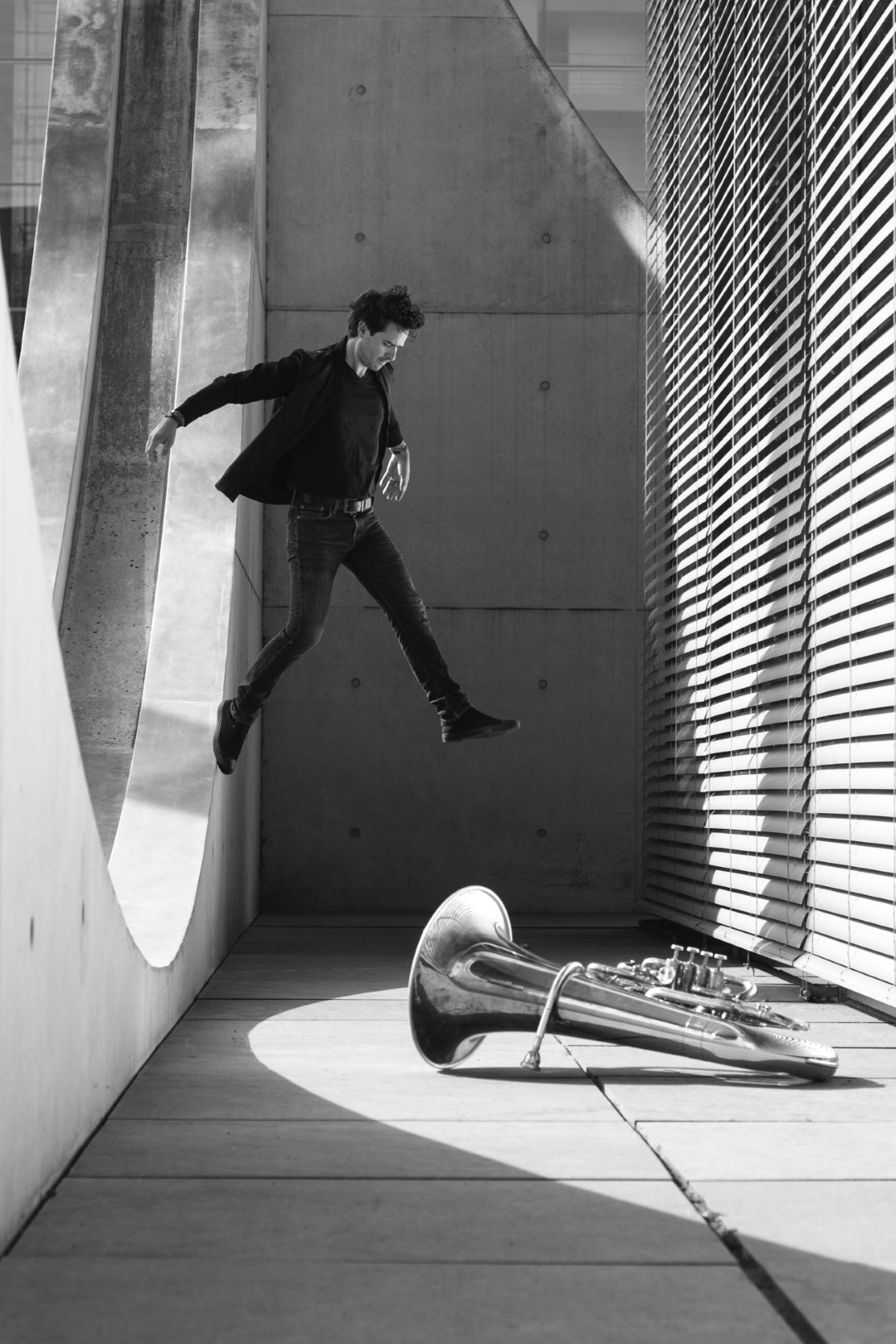 BIO
Thomas Leleu is the first tuba player to have ever won the award "Revelation Instrumental Soloist of the Year" at the annual French Grammy awards, the Victoires de la musique classique.
At only 34 years of age, Thomas Leleu is considered as "world star of the tuba" (TMC – french national TV). He is one of the few tuba player to exclusively lead a solo career. This iconoclastic artist stands where genres mix: a classical soloist, passionate about world music, modern music and pop…
He joined the Conservatoire de Paris (the CNSM) at age 17 and obtained the first prize for tuba and a degree awarded with distinctions. He studied as well at the Hochschule für Musik in Detmold (Germany) with Hans Nickel.
Thomas Leleu earned awards in several competitions throughout the world such as in Markneukirchen – Germany, Jeju – South Korea, and Luxembourg. He has been principal tubist with the Marseille Philharmonic Opera since he turned 19. In 2012 Thomas put the tuba in the spotlight by winning the "Revelation Instrumental Soloist of the Year" at the annual French classical music award, the Victoires de la Musique Classique. In 2017, he is ZDF/Arte « Stars of tomorrow » on the Arte channel in Berlin invited by Rolando Villazon. In 2019, he is nominated in 3 categories at the Opus Klassik in Germany (German Grammy) and at the VIA Awards in Germany.
Thomas is also regularly invited to perform at festivals and in Concerts Hall around the world: Konzerthaus de Berlin, Festspiele Mecklenburg-Vorpommern (Germany), Mito Settembre Musica (Italy), Kissinger Sommer de Bad Kissingen (Germany), Festival de Pâques d'Aix en Provence, Festival de Radio France-Occitanie-Montpellier, Brucknerhaus of Linz (Austria), Esplanade Concert Hall (Singapore), Un Violon sur le Sable (in front of 50,000 people), Théâtre des Champs Elysées, Hong Kong City Hall, Maison de Radio France, Leverkusener JazzTage (Germany)…Throughout the world : USA, China, Japan, South Korea, Taiwan, Macao, Hong Kong, Singapore, Venezuela, Argentina, Brazil, Germany, Austria, Italy, Spain, Belgium…
He has also performed as a soloist with many orchestras : Orchestre National d'Ile de France, Hong Kong Sinfonietta, Junge Sinfonie Berlin, Orchestre de Chambre de Paris, Orchestre Philharmonique de l'Opéra de Marseille, Jeju Symphonic Orchestra (South Korea), Orquestra Sinfonica de Estado de Lara (Venezuela), Belgium Royal Air Force Band, Santa Fe Symphonic Orchestra (Argentina), Orquestra Sinfonica de Santo André (Brazil)…
Thomas is regularly invited to radio and TV shows on TF1-TMC (French national TV), France 2, Bayerische Rundfunk (Germany), ZDF, Arte, Europe 1, France Musique, Kosovo National TV, Radio Nacional de Argentina…
Many composers have dedicated pieces to him such as : Richard Galliano, Vladimir Cosma, Airelle Besson, Claude Bolling…
He has released several albums: « In the mood for tuba » (Fondamenta/Sony Music), « Impressions for tuba » with the Royal Orchestra of the Belgian Airforce, « Stories… » (Ars Produktion), Born to Groove (NoMadMusic/Pias), on this album, he proposes his own compositions around jazz and popular music.
Thomas regularly gives master classes in the most prestigious universities of the world : Juilliard School in New York, Hochschule für Musik Hanns Eisler Berlin, Universität der Kunste (Berlin), Eastman School of Music in Rochester, Indiana University (Bloomington), Tokyo Music College, Carnegie Mellon University (USA), CNSM in Paris, New England Conservatory in Boston, Osaka Music College, Korea National University of Arts, Beijing Central Conservatory, El Sistema (Venezuela)…
Thomas has founded several unique and unprecedented ensembles with a tuba : Thomas Leleu Sextet (tuba and string quintet), tubaVScello, TL Trio (tuba, piano, vibraphone). In 2017, the show The Tuba's Trip (around jazz and popular music) staged by Claude Tissier (ex Cirque du Soleil), in 2021, Born to Groove (jazz world and pop music) with which he performs in many Jazz festivals (Jazz à Vienne, Jazz à Alès…).
He is since 2011 a "Melton Meinl/Weston Artist – Ambassador Buffet Crampon". He has developed with the firm the 2250 TL " French Touch " tuba which he is currently playing.