Silva & Steini
ETHEREAL VOCAL JAZZ FROM ICELAND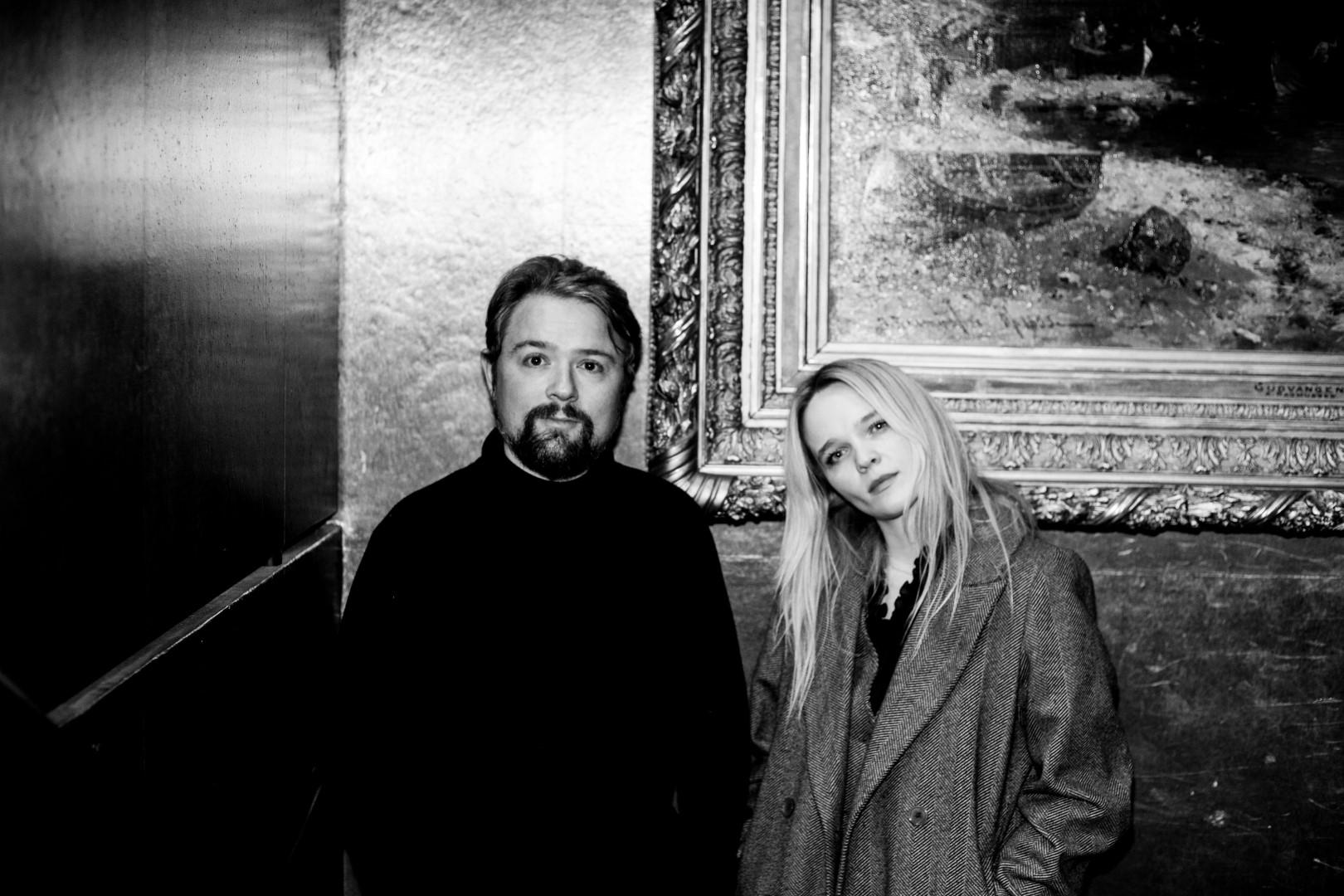 BIO
The debut album from Icelandic duo Silva & Steini, More Than You Know is proof of the pure magic in truly inspired song interpretation. Over the course of eight spellbinding tracks, Reykjavík-based musicians Silva Thordardottir and Steingrímur Teague reimagine a lovingly curated collection of jazz standards, presenting each in a gorgeously sparse arrangement that often finds their vocals solely accompanied by the warm and dreamlike tones of Wurlitzer or the muted sounds of a felted piano. A delicate convergence of their distinct sensibilities—the gracefully understated approach to jazz singing Silva first revealed on her 2019 full-length debut, the inventive yet elegant musicianship Steini has showcased as a member of globally beloved band Moses Hightower and as a touring/recording keyboardist for indie-folk powerhouse Of Monsters and Men—More Than You Know ultimately lends a sublimely new vitality to its selected songs (some nearly a century-old). The result: a lovely and luminous body of work, both timeless and quietly forward-thinking.
A lovely and luminous body of work, both timeless and quietly forward-thinking.
Released via FOUND (a U.S.-based record label dedicated to spotlighting singular voices in Icelandic music), More Than You Know draws much of its hypnotic power from the ineffable chemistry Silva & Steini discovered upon first crossing paths in 2018. After connecting through Silva's father (a musician who performed on Björk's 1990 jazz album, Gling-Gló), the two joined forces and soon began dreaming up their own nuanced spin on jazz standards from the '30s and '40s. "I remember Silva inviting me over and apologizing because all she had was this beat-up old Casio keyboard to play on," Steini recalls. "But as soon as she sang one note, I knew that I needed to play music with her." Along with frequently performing live shows (including countless gigs at Skuggabaldur, a now-shuttered bar that singlehandedly transformed Reykjavík's jazz scene for a brief spell in the early 2020s), the duo carved out an inimitable sound that favored subtlety and space over the virtuosic soloing typically associated with jazz. "We liked the idea of interpreting these songs with as few elements as possible, but in a way that feels very lush—sort of like how an extreme close-up in film allows for much more intimacy and detail," says Steini. "We also found that the Wurlitzer took up space in a different and much fresher way than jazz piano, and almost felt more like electric guitar."
When the pandemic halted all live performance, Silva & Steini headed into the studio and set to work on More Than You Know, deliberately embracing a certain unfussy naturalism in the recording process. "We really just wanted to document what we'd already been doing: sitting down together and playing some of our favorite standards, without worrying about how other people might respond to it," says Silva. "I think that mindset and sense of comfort are the main ingredients to making something beautiful, and ended up helping us create the whole mood and atmosphere of this album." Thanks to Silva's near-encyclopedic knowledge of jazz history, More Than You Know includes such unexpected offerings as the duo's piano-led and sweetly unhurried update of "It Might as Well Be Spring," a ballad composed by Rodgers and Hammerstein for the 1945 musical film State Fair. On "Try Your Wings," both musicians bring a particularly poignant vocal performance to their subdued but soul-stirring take on a late-'50s gem from legendary jazz singer/pianist Blossom Dearie (whom Silva names as one of her most essential influences). And on "If It Was" (the most requested song at their live shows), Silva & Steini look to more recent music history and deliver an enchanting rendition of a 2012 duet from Los Angeles-based singer/songwriter Alan Hampton and L.A.-born jazz vocalist Gretchen Parlato. Accompanied a minimalist yet deeply evocative video directed by acclaimed Icelandic fine artist and video director Anna Maggý, "If It Was" finds Silva & Steini joining in tender harmony at the chorus, achieving a softly stunning beauty that's further heightened by the heavenly bass clarinet melodies of Icelandic musician Jóel Pálsson.
Mixed by Styrmir Hauksson (Starwalker, Seabear) and partly engineered by the iconic Icelandic artist Ragna Kjartansdóttir, More Than You Know embodies a radiant sincerity that wholly reflects the duo's love for the source material. "I've listened to jazz since I was a kid because of my parents—it's in my blood," says Silva, who also names Carmen McRae and Abbey Lincoln among her main inspirations. After learning to play cello at the age of nine, Silva went on to study jazz singing at Tónlistarskóli FÍH (the same Reykjavík-based music school from which Steini graduated) and in her late teens started performing in cafés and bars throughout Iceland. Released in summer 2019, her self-funded debut album Skylark earned praise for its effervescent versions of classics like "Fly Me To The Moon," and soon led to Silva taking the stage at the Reykjavík Jazz Festival. Meanwhile, Steini first explored his expansive musicality by studying piano at age nine and later sang in a male choir featured in an Icelandic theatre group's production of Georg Büchner's Woyzeck—an undertaking that involved performing original music created by Nick Cave and Warren Ellis and touring in such far-flung cities as London and Seoul. As one of two lead singers and lyricists for Moses Hightower, he's released four studio albums (including 2015's gold-certified Önnur Mósebók) and won three Icelandic Music Awards. Since he first began touring and recording with Of Monsters and Men in 2012, Steini has also performed with the platinum-selling band on three world tours and at major festivals like Coachella, Glastonbury, and Bonnaroo.
Now at work on their second full-length, Silva & Steini each hope that More Than You Know might invite listeners into the same enraptured state of mind they experienced in the album's creation. "My intention is always to create something that inspires people to listen carefully and really take in all these beautiful melodies and lyrics," says Silva. "One of the things we both love is turning space into a strength and letting everything breathe," Steini adds. "Hopefully when people listen, they can let go of any need to fill the silences with anything except their attention. I hope it helps them to feel the importance of every moment, and really savor the spaces in between."
– Elizabeth Barker