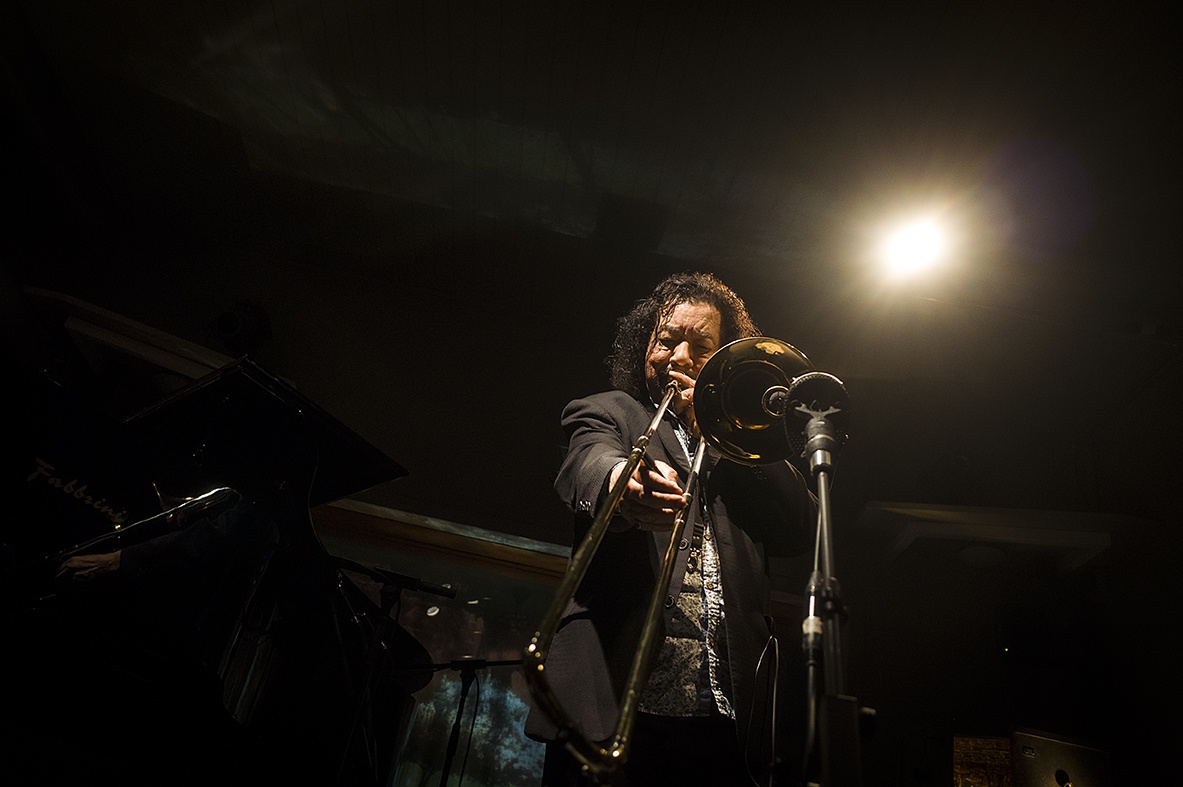 BIO
Raul de Souzaoão Jose Pereira de Souza, known as Raul de Souza, is a legendary trombone player famous for his musical genius. Between 1951 and 1952, de Souza got the chance to play with Pixinguinha and Agostinho dos Santos. Soon after, Ary Barroso helped him launch his career when he renamed him 'Raulzinho' on Radio Tupi (RiodeJaneiro). In 1955, de Souza recorded Turma da Gafieira, the first instrumental album of Brazilian music history, along with Sivuca, Altamiro Carrilho, Baden Powell and Edison Machado, among others. In the 1970s, de Souza secured his international career by recording albums in the United States with famous artists such as Sergion Mendes, Airto Moreira, Sonny Rollins, George Duke, and Freddie Hubbard.
Considered one of the greatest living jazz trombonists, Raul de Souza has continuously reinvented jazz music in Brazil. Who does not know his huge world hit Sweet Lucy produced by George Duke?
From Bossa Nova to Samba in the 60s, surrounded by Sérgio Mendes and Milton Nascimento, de Souza experimented with Funk in the 80s with his friend George Duke and Hard Bop with Sonny Rollins. Raul de Souza also recorded with Flora Purim, Airto Moreira and Cal Tjader and also shared his talents with Baden Powell, Hermeto Pascoal, João Donato. Tom Jobim, Kenny Clarke, Freddie Hubbard, Wayne Shorter, Flora Purim, Airto Moreira, Cal Tjader and more recently Ron Carter and Richard Bona, among many others.
Raul de Souza is a multi-instrumentalist and composer. Playing alto and tenor sax and percussion besides the trombone and also has invented the 'Souzabone', a specific type of electric trombone. He is still considered by international critics (DownBeat, New York Jazz Magazine, Rolling Stones and many others) as one of the greatest trombone players in the world.
Raul de Souza's latest album, Blue Voyage, was released in late 2018.
Often described as one of the best trombonists of all times in many magazines such as DownBeat and Billboard, Raul de Souza has become an international figure, considered a virtuoso with a recognizable Brazilian phrasing and a typical carioca way of swinging that he acquired by playing gigs at the gafieras (dance halls) in Rio de Janeiro. After he decided to leave the American major record labels that did not support this musical eclecticism, de Souza went back to Brazil and recorded with Tom Jobim, Zimbo Trio, Paulo Moura, Milton Nascimento, Djavan, Maria Bethânia, Hermeto Pascoal and Egberto Gismonti, among others. Sharing his time between Brazil and France, he has continued producing music and experimenting with different musical styles and instruments.
After 60 years, de Souza still delights audiences with this very special sound when performing all around Brazil and worldwide!