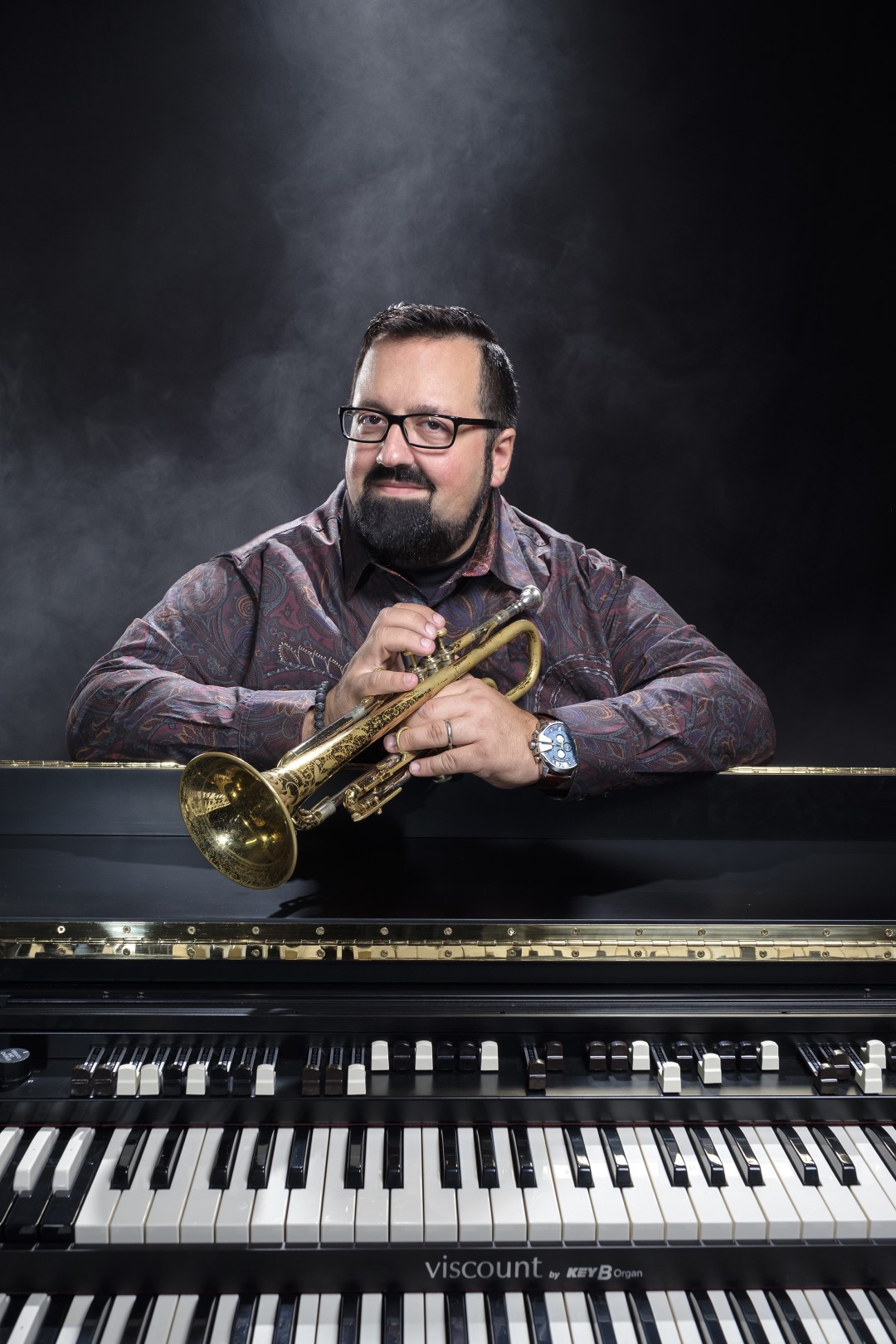 BIO
Multi-instrumentalist and jazz organ icon Joey DeFrancesco, a five-time Grammy nominee, is recognized as the Master of the Jazz Organ and Miles Davis inspired trumpeter. With over 30 recordings as a leader and collaborations with many of the top names in modern jazz, Joey DeFrancesco is one of the current jazz scene's true trailblazers. 
" He has dominated the instrument and the field as no one of his generation has." – Chicago Tribune
"Mr DeFrancesco is a deeply authoritative musician, a master of rhythmic pocket, and of the custom of stomping bass lines beneath chords and riffs." – New York Times
Saying that DeFrancesco is known for his organ playing is like saying that Porsche is known for its cars. DeFrancesco, who has topped the Organ category five times during the past six editions of the DownBeat Critics Poll, started his career as a musically precocious teenager.
To hear Joey DeFrancesco today, his music embodies the traditional art form infused with a distinct modern approach, just part of what makes his music unmistakably his own. "Joey takes all styles and creates his own: the Joey DeFrancesco style," Sammy Figuera.
Raised in Philadelphia, this is where the foundation of his musical roots in Jazz, Blues and other musical art forms were born. By age 20, he had toured with Miles Davis, recorded three albums for Columbia Records and been placed fourth in the 1987 Thelonious Monk Institute of Jazz International Piano Competition. But DeFrancesco doesn't just play the organ. He has earned his merits as a vocalist, and when he's seated on the organ bench, his trumpet is often within arm's reach. Furthermore, he doesn't just play the Hammond B-3 organ. He plays several other keyboards, including signature JdF models from the Legend line of electric organs manufactured by Viscount. More recently, DeFrancesco has taken up the tenor saxophone, an interest that arose while working on his 2019 release, In The Key Of The Universe (Mack Avenue). Spending time absorbing the incandescent reed lines of the album's guest artist, Pharoah Sanders, proved to be an inspiration. "I thought [the saxophone] was going to be something to have fun with, that I wouldn't take too seriously," he recalled. "But then I got really serious about it. And now I feel as strongly about it as any of the other instruments."
Joey DeFrancesco's emergence in the 1980s marked the onset of a musical renaissance. Organ jazz had all but gone into hibernation from the mid-70s to the mid-80s until DeFrancesco reignited the flame with his vintage Hammond organ and Leslie speaker cabinet. The son of 'Papa' John DeFrancesco, an organist himself, the younger DeFrancesco remembers playing as early as four years old. Soon after, his father began bringing him to gigs in Philadelphia, sitting in with legendary players like Hank Mobley and Philly Joe Jones, who quickly recognized his talent and enthusiasm. With a natural gift for music, DeFrancesco also swiftly picked up on the trumpet after a touring stint with Miles Davis as one of the two youngest players ever recruited for any of Davis's ensembles.
DeFrancesco has recorded and/or toured with his own groups as well as numerous renowned artists that include Ray Charles, Van Morrison, Diana Krall, Nancy Wilson, George Benson, James Moody, John Scofield, Bobby Hutcherson, Jimmy Cobb, John McLaughlin, Larry Coryell, David Sanborn and many more. The four time Grammy® Award-nominee, with more than 30 recordings as a leader under his belt, has received countless Jazz Journalist Association awards and other accolades worldwide, including being inducted into the inaugural Hammond Organ Hall of Fame in 2014, the Philadelphia Music Walk of Fame in 2016 as well as topping the Critics Polls in DownBeat Magazine eleven times over the past fifteen years and the Readers Polls every year since 2005. DeFrancesco also hosts a weekly program on SiriusXM Radio's Real Jazz channel entitled Organized.
New album More Music, due out September 24 2021 , is "more" in every conceivable way. It offers up ten new DeFrancesco originals, brought to life by a scintillating new trio. And the master organist, who has long supplemented his keyboard virtuoso with his skilled trumpet playing, here brings out his full arsenal: organ, keyboard, piano, trumpet, and, for the first time on record, tenor saxophone. He also steps to the microphone to croon Mario Romano's yearning "And If You Please."