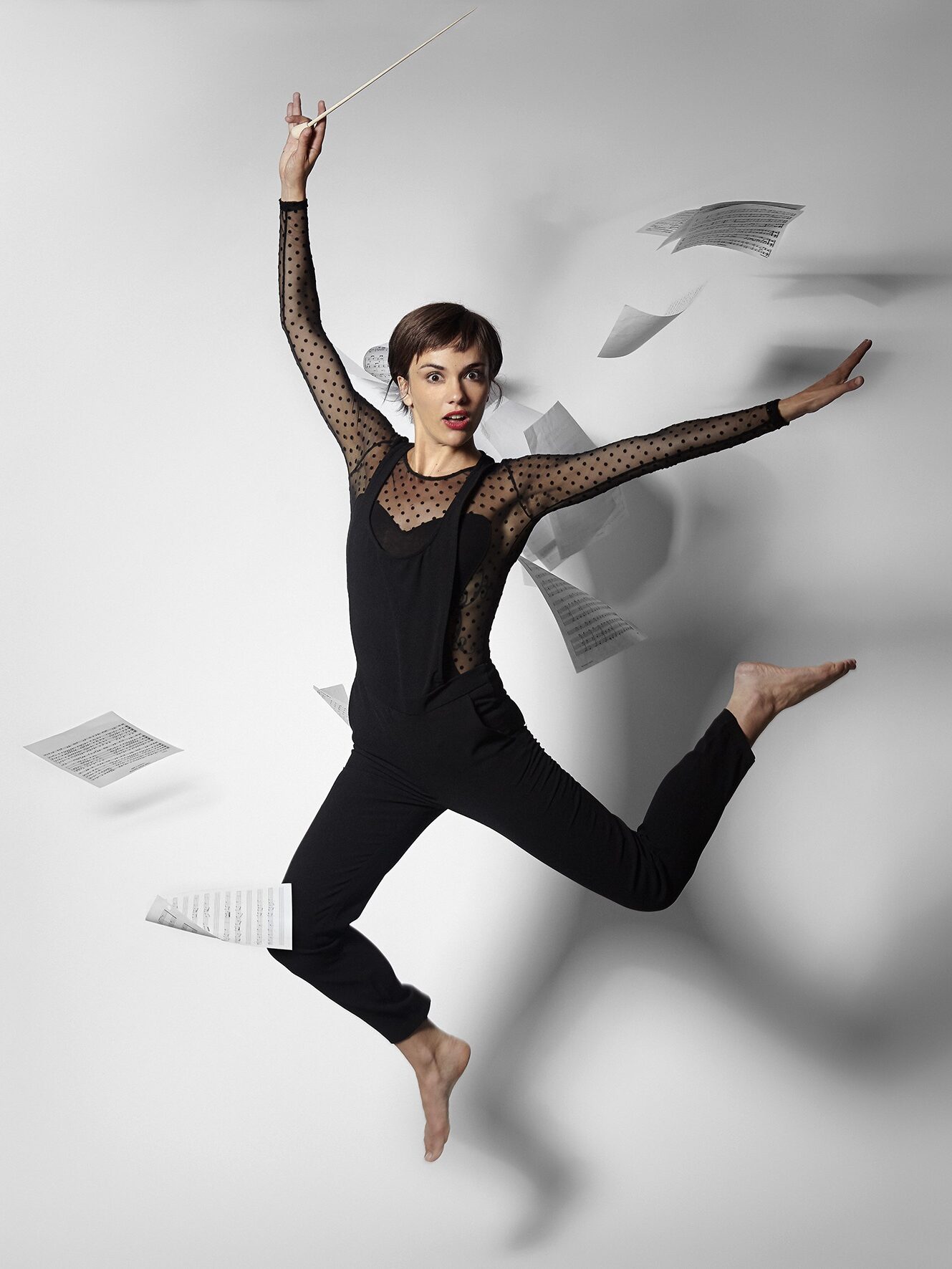 BIO
French singer-songwriter Camille Bertault is a young French shooting star – an amazingly charming, funny virtuoso!
"Camille Bertault is a marvel" – Télérama
"Much more than a buzz" – Vogue
She is an uncommon talent with a crystalline voice, good intonation, great understanding of the rhythmic and harmonic underpinnings of jazz, and has a prodigious memory. Camille Bertault comes from a strong French tradition of vocalese artistry.
Since being discovered via social media (with more than 800,000 views and 30,000 followers on Facebook) with her performance of John Coltrane's Giant Steps, posted on YouTube, Bertault became a social media star overnight and people have not stopped talking about her. While this is a much likelier scenario for a pop or hip-hop artist, it has happened to a jazz musician. The 33-year-old French vocalist may be the first YouTube Jazz star (within the limited definition of the term)! The funny thing is that she filmed that video after failing a conservatory exam. To boost her spirits, she wrote a set of French lyrics to one of John Coltrane's best-known compositions. The words spoke of the "Giant Steps" it took to realize that one's own expectations are more important than the expectations of others. Then she cued up Coltrane's original recording, set up a video camera, and recorded her performance, which she later uploaded to Facebook for her friends. The video turned up on Facebook's Jam of the Week and went viral almost overnight. Non-French speakers missed the message of Bertault's lyrics, but viewers around the world were amazed with the uncanny accuracy with which she scatted Coltrane's blinding-fast solo.
While pursuing her diploma in classical piano at the conservatory, Bertault also studied voice and theater. After graduating, she enrolled in the jazz department where she continued her studies in music theory, composition and improvisation. Driven by her passion for writing and literary composition, she wrote and published two musicals for a young audience. Bertault then began singing her own French lyrics and poetry on jazz standards and, finally, on her own compositions.
In September 2020, her fourth album Le Tigre (her second album for Sony France) was released very successfully. 
Le Tigre (The Tiger): Savage, powerful, sometimes even frightening, but as any self- respecting feline, playful and foolish. Camille Bertault, the multi-faceted musician roars once again after having impressed the musical world in 2018 with her album Pas de Géant. With Le Tigre, she unveiled her particular eclectic sensibility, relying on great masters of her different universes. Johann Sebastian Bach, Michel Legrand, Serge Gainsbourg, Bill Evans…Those famous names formed the basis of the album, which helped Bertault  to shoot up to 50th place in Vanity Fair's Most Influential French People Abroad ranking. No less!
The new album is again produced by multi-award-winning (including one Grammy award) instrumentalist and producer Michael Leonhardt (USA). A dream team, which allows the singer and composer to rely less on her predecessors and create new and fresh music, aside from her song inspired from Chopin's Prelude in E minor.
Camille has composed all the tracks, from the lyrics to the arrangements, highlighting her beautiful, seductive, skilled voice and her original universe. Accompanied by piano virtuoso Jacky Terrasson, she switches between moving ballads on the themes of inspiration and dreams (There's a Bird, Je vieillis), super-dynamic tracks flirting with electro music (Le Tube, Todolist used for a Tik Tok Challenge by famous French influencer Lenna Vivas), and pieces with thrilling groove (Le Tigre, and Ma Muse relayed by famous French actor/humorist Gad Elmaleh in one of his stories). What creates the strong coherence feeling though? Bertault's colorful and subtle voice, of course, but also the superb playing of Christoph 'Disco' Mink on the double bass, Minino Garaï on percussion, and also producer Michael Leonhart on brass.
We knew Camille Bertault for her incredible vocal virtuosity, masterfully vocalese-ing to John Coltrane's legendary and extremely difficult solo on Giant Steps on her Pas de Géant album. However, here she prefers a more subtle approach, drawing on emotions she is able to deliver more than by her virtuosity. The lyrics are partly responsible for that, profound and moving, questioning the artistic process, identity, and how others see us. Faithful to herself, we discover a poet, deeply in love with French language, sensitive, and sublimating her exceptional musical qualities.