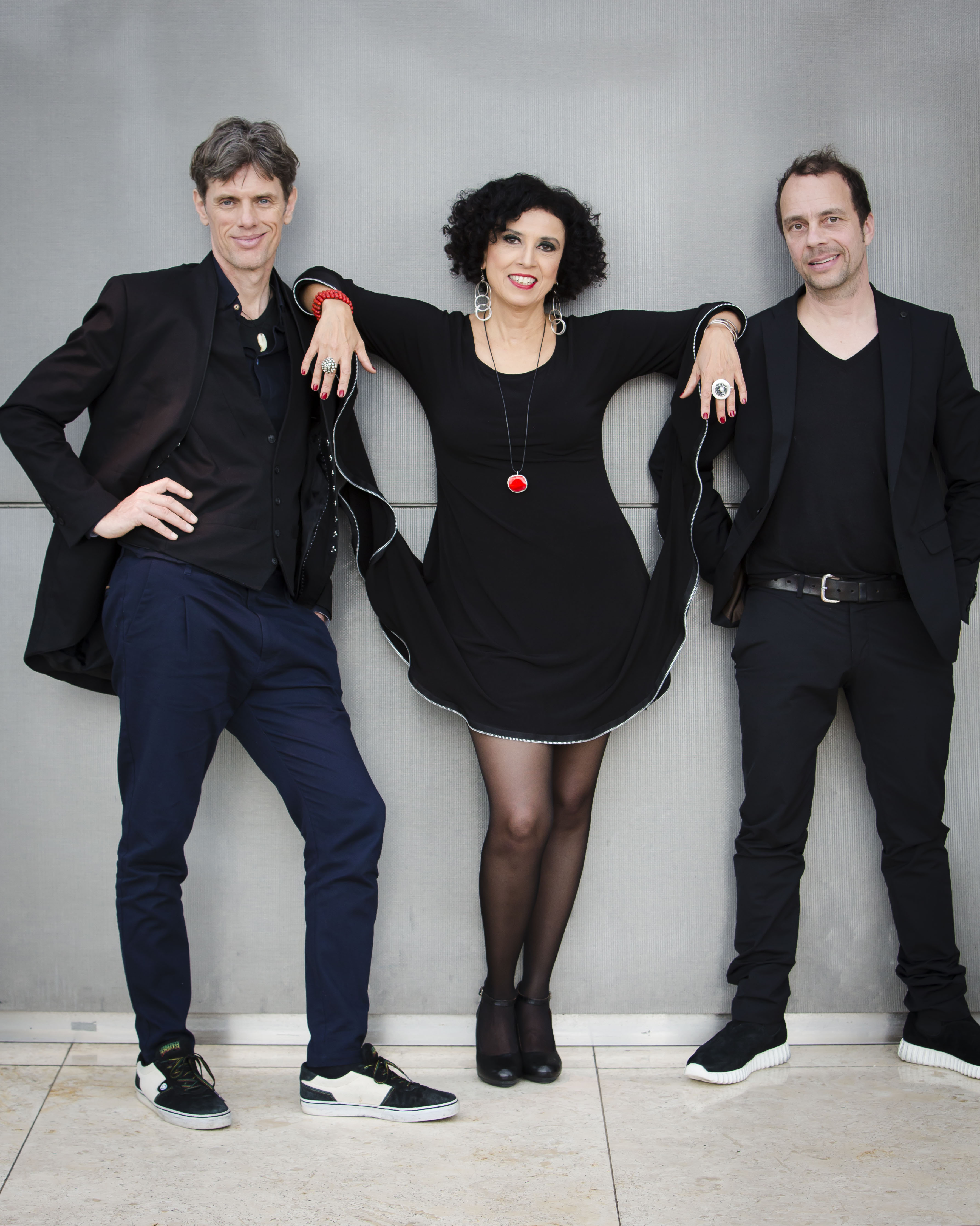 BIO
Bossarenova Trio is a unique innovative transatlantic crossover project, consisting of the great lady of Bossanova, Paula Morelenbaum (voice) from Brazil and two of the leading German musicians, producers and creative minds, Joo Kraus (trumpet, beatbox) and Ralf Schmid (piano, electronics).
When Paula Morelenbaum released the album Casa back in 2001 together with her husband, cellist Jacques Morelenbaum, and the Japanese pianist and free-thinker Ryuichi Sakamoto, the trio's CD was received with enthusiasm worldwide. The three of them had their own way of defining how the wealth of Brazilian songs was to be dealt with.
Twelve years later, a new transatlantic trio has emerged featuring Morelenbaum as vocalist that looks into the term 'song' from a German, Brazilian, European and South American point of view: Dori Caymmi, Frederic Chopin, Antonio Carlos Jobim, Schumann, Villa-Lobos, Pixinguinha, Claudio Monteverdi, Baden Powell, Franz Schubert and Marcos Valle – different continents and epochs, yet inspired by the same essence and roots. The result is both an adventurous and unique blend of two cultures.
Trumpet-player and ECHO Jazz prize-winner Joo Kraus, arranger Ralf Schmid (Kraus's collaborator on many projects) and vocalist Paula Morelenbaum, who calls Rio de Janeiro home, got to know each other on the Bossarenova big-band project that Germany's SWR Big Band carried out in 2009. The goal was to use opulent Jazz arrangements to breathe new life into timeless classics from the days of Brazilian Bossa Nova. Due to the numerous concerts the three of them performed with the SWR Big Band, it was virtually inevitable that the desire to step onstage as the nucleus within the trio would ensue.
Concerts in San Francisco, New York City and on to Berlin and Hamburg ensured that this alliance of musicians, now known as the Bossarenova Trio, immersed itself deeper and deeper in their different but reciprocal roots. A project ultimately evolved that revisited individual 'songs' from a variety of cultural spheres and eras. Without any attempt to curry favor with a particular 'zeitgeist' or classic form, what emerged was a fusion that can be interpreted as the Bossarenova Trio's very own language. Samba Prelúdio is nothing less than a bridge across the cultural gap, that links the classic European 'Lied' with the musical language of South American, blending Bossa Nova with Jazz and Classical Music in a way that hasn't been tried before.
Touring periods/avails
Fall 2021
March 2022
October/November 2022
June/July 2023